The Gayest Show Ever takes a smart, sexy and hilarious bite out of global gay culture.
Designed for straights and gays alike, the half-hour show is led by a lively host and features field interviews with guest reporters. The show blends a documentary sensibility with cheeky humor. With political controversies, one-of-a-kind personalities and bizarre community rituals, we paint a portrait of gay life like you've never seen before.
The Gayest Show Ever won a Rocky award for Best Pilot in the International Pilots competition at the 2010 Banff World Television Awards.
The Gayest Show Ever airs on OUTtv on Tuesdays, Wednesdays and Saturdays at 2:30am ET/11:30pm PT until April 1, 2012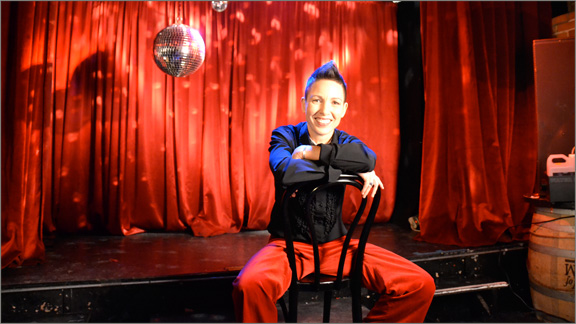 The Episodes
Episode 1
Filmmaking legend John Waters (director of Polyester, Hairspray and the outrageous Pink Flamingos) gives us his hilarious take on gay activism; we go backstage with sexy gay rapper Cazwell; rocker Lucas Silveira and activist Patrick Califia introduce us to the growing community of women who are becoming men; we take it all off to get the lowdown on what makes naked yoga so hot; and our comedic drag queen geniuses take us to the back alley for Project Dumpster.
Episode 2
Controversial indie director Bruce LaBruce tells us how his hardcore pornography takes aim at conformity and consumerism; Big Freedia, the hottest artist out of New Orleans' sissy-bounce scene, teaches host Elvira Kurt how to shake her booty; we continue our look at the female-to-male transsexual community and hear why America's bad-girl academic Camille Paglia thinks this trend is so dangerous; we head to Denmark to get a lesson in love from Axel Axgil, one half of the world's first officially united gay couple; and in our comedy skit section, we get some hilarious insights into the inner workings of an asexual lesbian couple.
Episode 3
Pop music superstar Cyndi Lauper holds the gay community close to her bosom and takes on homophobic American evangelicals; the Pulitzer Prize-winning author of The Hours, Michael Cunningham, gives gay men tips on aging gracefully; we gain behind-the-scenes access to get the controversial story of sex without condoms in gay pornography; Denmark's queer arts collective, Dunst, tells us why being ugly is sometimes the best revenge; and in our comedy sketch, the proud mother of a gay man gives us a lighthearted lesson in narcissism.
Episode 4
We go to a rehearsal for the Broadway hit musical Priscilla, Queen of the Desert; transsexual pornstar Buck Angel tells us the secret to his success; we continue our investigative look at sex without condoms in gay pornography; we get into the ring at an international gay wrestling match; we find out how queers fit into the history of Copenhagen's renegade community of Christiania; and in our comedy section, we find out what would happen if straight men were queer.
Episode 5
We find out why performance artist Nina Arsenault believes having a penis makes her no less of a woman; pop music sensation the Scissor Sisters tell us how Elton John gave them a hand up and why Kylie Minogue should be queen; we talk to members of GetEqual, who led the charge against Don't Ask, Don't Tell in the US and have turned their backs on established gay rights organizations; we go to the Polish National Museum to uncover the hidden queer history behind some of the world's greatest masterpieces; and in our comedy skit, our drag queen duo gives us a hilarious takeoff of reality television in "Dancing with the Dumpsters."
Episode 6
We uncover the inspiring, heartbreaking and almost forgotten story of Lili Elbe, the first known recipient of male-to-female sex reassignment surgery; American comedian and television star Margaret Cho tells us why her husband approves of her having sex with butch dykes; the son of America's most prominent gay-hater, Fred Phelps, bashes his dad; a group of European moped riders travels into the realm of bisexuality; and our drag queen comedians take a stand on gay fashion disasters.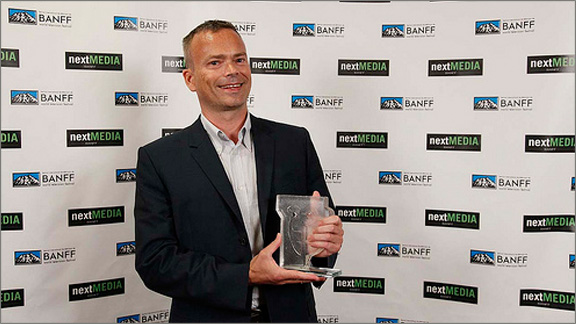 The Team
David Walberg is a successful publisher and producer of gay media for over two decades at Pink Triangle Press, one of the world's largest gay media enterprises. The Gayest Show Ever features the same craftsmanship as the Press's influential print and web titles: journalistic integrity, engaging storytelling, innovative packaging and a creative approach to audience development.
Elvira Kurt is a well-known stand-up comic, writer and producer. She has written for Ellen DeGeneres and the comedy series Little Mosque on the Prairie and has appeared on Leno and Degrassi. Her comedy specials have aired on Comedy Central, HBO, Showtime, E! and Bravo and she has hosted shows on MTV's Logo and Canada's main networks CBC and CTV.
Frank Prendergast has worked for over 14 years as a producer at Canada's CTV, CityTV, CHUM Television and Bravo! His work in factual entertainment has been syndicated throughout the world and includes documentaries, special presentations and production on a variety of magazine programs such as BookTelevison and QueerTelevision.
Paul Bellini is a veteran comedy writer, producer and magazine columnist. He was nominated for an Emmy as a writer on the comedy series The Kids in the Hall and an International Emmy as a producer on the same series. He has also won two Gemini Awards as a writer and producer on the top-rated Canadian comedy This Hour Has 22 Minutes.